Arun,
I updated the document with a use case (also enclosed), see if that makes it any more clear.
-Cory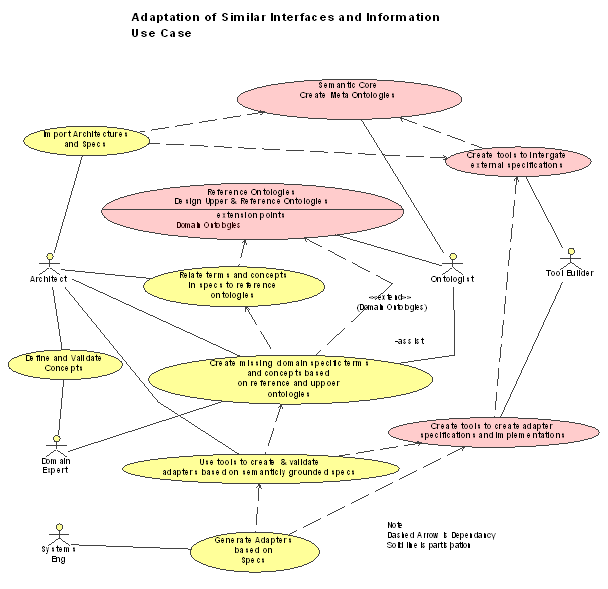 Figure 1
-----Original Message-----
From: ontac-forum-bounces@xxxxxxxxxxxxxx [mailto:ontac-forum-bounces@xxxxxxxxxxxxxx] On Behalf Of Arun Majumdar
Sent: Saturday, December 31, 2005 1:05 AM
To: ONTAC-WG General Discussion
Subject: Re: [ontac-forum] Re: Future directions for ontologiesand terminologies
Dear Cory,
I reviewed your paper and liked it. Do you have a process flowchart or
diagram that summarizes the ideas as a picture might help us modularize
and iterate the sub-processes required? However, I like the overall
gist and this might be usable in developing a "methodology", even
without any diagrams.
Thanks,
Arun
Cory Casanave wrote:
>Re: How will ontologies help with legacy systems maintenance?
>Legacy evolution and integration is what I was addressing here...
>http://www.semanticcore.org/requirements/InterfaceAdaptation.pdf
>
>-----Original Message-----
>From: ontac-forum-bounces@xxxxxxxxxxxxxx
>[mailto:ontac-forum-bounces@xxxxxxxxxxxxxx] On Behalf Of David Eddy
>Sent: Friday, December 30, 2005 11:36 PM
>To: ontac-forum@xxxxxxxxxxxxxx
>Subject: [ontac-forum] Re: Future directions for ontologies and
>terminologies
>
>John Sowa -
>
>BEFORE reading the 5 additional waiting digests in my in-box, I'm going
>to come out of lurk mode & throw my two cents on the table--at the
>extremem opposite end of the table from John Sowa I think--as to what I
>think could be a valuable contribution from this group...
>
>
>
>
>>CC> A valuable task for this group would be to collect and
>> > validate user driven requirements as well as the scenario
>> > of applying an upper ontology to those solutions. This
>> > will help nail down the set of problems we are addressing
>>
>>
>>
>
>Maybe the phrase "rip & replace is NOT an option..." is old news, but
>the first time I heard it at Mitre gig in McLean in September 2004
><http://www.topquadrant.com/conferences/sept8_2004/stgov04.htm> from
>Mike Daconta, it really grabbed my attention.
>
>For a variety of reasons I'll claim that I look at the world thru the
>very foggy & scratched glasses--very much the opposite of "rose
>colored"--of a maintenance programmer. Pick your legacy language...
>COBOL, Fortran, PL/S, Algol, Java, Ruby, PHP,...
>
>I've had a wonderful time in my career BUILDING systems... guess what?
>The green fields are all built up now. While it may be feasible to put
>$13 billion into the rats hole of Boston's "Big Dig" (thank you very
>much taxpayers of America), such massive reconstruction efforts are NOT
>likely to happen to the software infrastructure we've built over the
>past 50+ years.
>
>The challenge going forward is getting those crusty old legacy
>systems--that WORK--to talk with other systems.
>
>And that's where taxonomy, ontology & semantics comes in... not 1 in
>100,000 of the systems that our daily lives depend on has been either
>conceived, designed, built, and certainly not maintained with a
>nanosecond of thought towards the organizational principles in formal
>ontologies.
>
>Said another way... if you can distill ANY semantics from MSTR-MENSA-FL
>with RDF, predicate calculus, KIF, or any other formal logic process,
>I'm all ears.
>
>
>I recently discovered this interesting article by Dr George (Mr WordNet)
>Miller...
><http://www.kurzweilai.net/meme/frame.html?main=/articles/art0186.html>
>
>... take a simple 13 word sentence & it provides some 3.6 Trillion
>combinations. As he points out... no wonder "machine translation" has
>had such a hard time living up to it's dreams.
>
>And as far as I can tell the WordNet effort primarily only deals in real
>words.
>
>News flash... inside software applications "real words" are few & far
>between.
>
>
>What I want out of this ontological discourse is something that helps
>systems analysts & programmers to more quickly UNDERSTAND what the
>systems under their care are actually talking about.
>
>
>Bluntly... I've heard this fundamental challenge/conundrum throw up in
>the SOA (service oriented architecture) commercial space...
>
>The business problem: I'm in an insurance company that has several
>thousand applications (a universe of undefined extent comprised of
>custom built applications, heavily customized packages & box-stock
>packages...)
>
>
>
>[FYI... there was a recent blurb in WashingtonTechnology...
>
>"EA helps mind the money
>By Drew Robb
>11/07/05; Vol. 20, No. 22 Intelligence is an imperfect science. Just ask
>CIA or the 9/11 Commission. Or EDS Corp., the contractor tasked with
>wrangling thousands of legacy systems into the Navy-Marine Corps
>Intranet. When EDS started the job, the Navy thought it had about 5,000
>applications to integrate. EDS found more than 100,000."]
>
>
>
>If I'm in Silo A & know what "policy number" represents, how do I know
>that over in Silo B, I need to be looking for "contract ID"?
>
>[This is an extremely simplified example... this basic problem caught my
>attention 25 years ago at an insurance company that had discovered some
>70 names for the core "policy number" concept... I doubt if that number
>has gotten smaller in the past 25 years.]
>
>
>Sorry to be so long winded... but I vote with Denise Bedford...
>"metadata is NOT hierarchical." And the corollary... software systems
>are NOT inherently organized.
>
>
>How will ontologies help with legacy systems maintenance?
>
>_____________________
>
>- David Eddy
>Babson Park, MA
>781-455-0949
>
>_________________________________________________________________
>Message Archives: http://colab.cim3.net/forum/ontac-forum/
>To Post: mailto:ontac-forum@xxxxxxxxxxxxxx
>Subscribe/Unsubscribe/Config:
>http://colab.cim3.net/mailman/listinfo/ontac-forum/
>Shared Files: http://colab.cim3.net/file/work/SICoP/ontac/
>Community Wiki:
>http://colab.cim3.net/cgi-bin/wiki.pl?SICoP/OntologyTaxonomyCoordinatingWG
>
>
>_________________________________________________________________
>Message Archives: http://colab.cim3.net/forum/ontac-forum/
>To Post: mailto:ontac-forum@xxxxxxxxxxxxxx
>Subscribe/Unsubscribe/Config: http://colab.cim3.net/mailman/listinfo/ontac-forum/
>Shared Files: http://colab.cim3.net/file/work/SICoP/ontac/
>Community Wiki: http://colab.cim3.net/cgi-bin/wiki.pl?SICoP/OntologyTaxonomyCoordinatingWG
>
>
>
>
_________________________________________________________________
Message Archives: http://colab.cim3.net/forum/ontac-forum/
To Post: mailto:ontac-forum@xxxxxxxxxxxxxx
Subscribe/Unsubscribe/Config: http://colab.cim3.net/mailman/listinfo/ontac-forum/
Shared Files: http://colab.cim3.net/file/work/SICoP/ontac/
Community Wiki: http://colab.cim3.net/cgi-bin/wiki.pl?SICoP/OntologyTaxonomyCoordinatingWG